"Bad breath" happens to all of us at any point in time. But it is tough to tell when you are having one, as it is almost impossible to smell one's mouth. However, if you got any honest friend around and you come to know about this, then take action immediately. There are several health reasons for bad breath, and the primary goal is oral care. Make an appointment with your dentist and get a check-up of your teeth and gums. The food we eat leaves a part in the teeth gaps, and that creates a build-up gradually in the mouth that smells eventually.
If proper brushing twice a day doesn't help, then get a professional clean up from your dentist. That may reduce the problem and use a tongue scraper. Surprisingly, our tongue also holds food particles that get rotten later. So scrape your tongue daily while brushing. Another regular thing to do is flossing. Buy some floss and learn the technique properly from your dentist. Regular flossing keeps our teeth gap clean and bacteria-free. So these are the oral reasons for lousy breath. Now let us see some other ideas.
Bad Breath: Other Reasons
There may be other reasons for bad breath that are digestion problems and kidney reflux. They also create a terrible smell internally without our knowledge. If this problem exists, then go to a general physician and get a check-up. Digestion problems, such as constipation and acidity, needs to be fixed to get rid of this problem.
Dry mouth can be the cause of this problem. Several medical conditions and addictions like smoking can cause bad smell in the mouth. When you quit smoking, the standard saliva production resumes and bad odor reduces also. In other dry mouth conditions, it is good to have some water in some regular intervals. Crunchy fruits and vegetables clear the plaque, and you must avoid sugar as they leave a lot of residues behind in your mouth.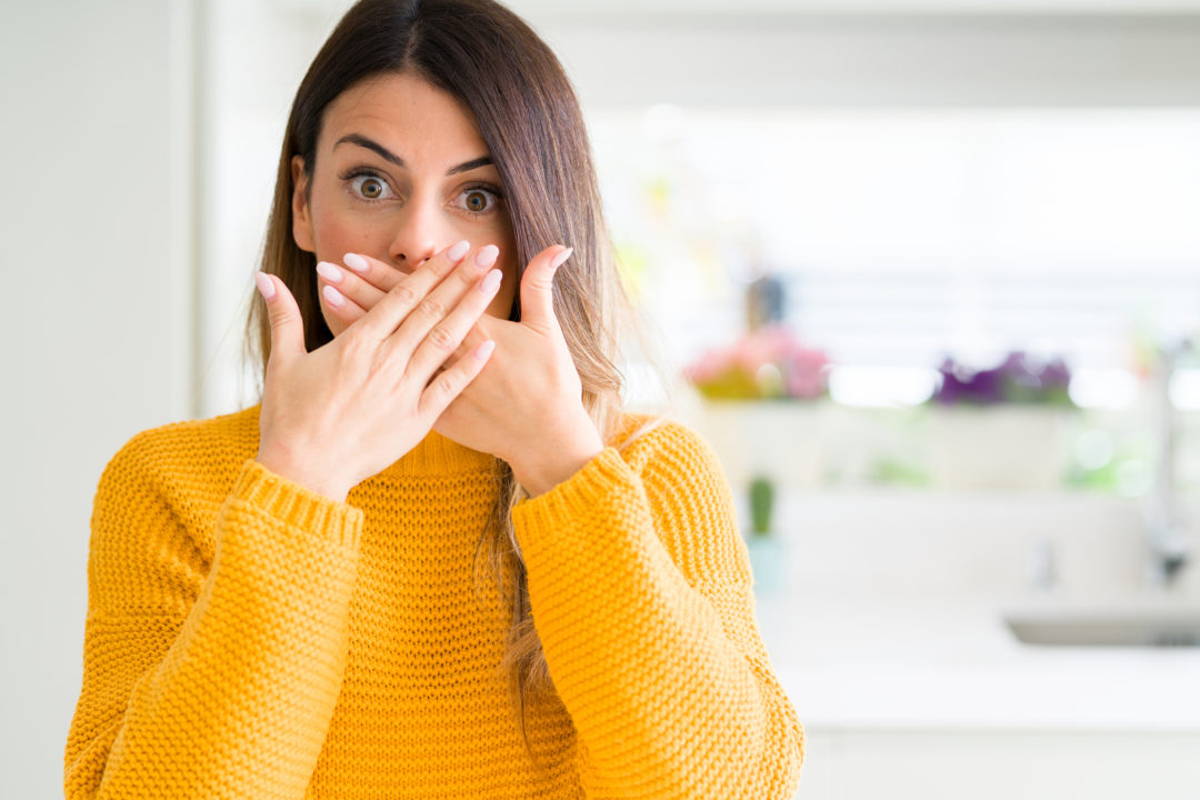 Homely Remedies
Brush twice daily and use natural chemical free toothpaste for better results. Change your brush every two months and change your paste brand every three months. Use a medicated mouthwash to fight plaque build-up, and it also refreshes your mouth after each meal. Make this a routine, especially at night.
Try to chew some gum or a basil leaf. The chlorophyll in the leaf keeps your teeth shiny too. Both clove and clove oil is very beneficial for teeth; you can save a piece of clove in your mouth. It is a very traditional technique too, and clove oil improves teeth health a lot. Citrus acid stimulates saliva glands so you can use a lemon or orange wedge also. Gurgle it every night with lukewarm water with a pinch of salt and baking soda in it. It will remove the yellowness and refresh the breath too. So these are the homely remedies for mouth health and You must visit a dentist if the problem persists.